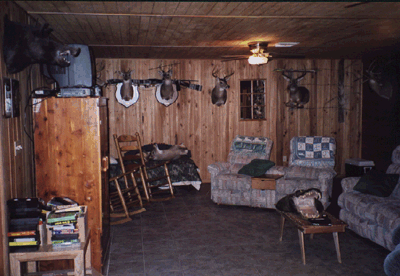 ---
Lodging and Accommodations
The lodge is nestled in the middle of a beautiful oak hammock, providing the opportunity to "rough it" with all the conveniences of home. There are comfortable beds, shower, kitchen and dining area, and a large living room to gather and discuss the days events or watch the latest hunting videos in air conditioning. However, on a cool, pleasant evening, there are rocking chairs on the front porch so you can sit back and rock your cares away while we take care of you. In addition, you'll get the best Southern cooking has to offer. All lodging and accommodations are provided free to our hunters.


Combination Hunts
Another option for our hunters is our hunt packages which allow you to combine the taking of two animals on one hunt. Alligator and wild hog as well as turkey and wild hog guided hunts are available.


Other Services
We also offer Duck Hunting, Photography trips, Airboat rides, and Nature Field trips with services for the hunting impaired. Contact us for more information on these services.


What To Bring
Coolers for you meat, weapons, clothing and you camera is probably all you will need. We will let you know of any other special needs there might be for your hunt. At Osceola Outfitters, we consider it "Southern Hospitality" to provide you with everything else.


Most Frequently Asked Questions
How much do your hogs normally weigh and how big are their teeth?
Boar hogs can run anywhere from 125 to 300 pounds. The average seems to be about 150 lbs with teeth between 1 to 3 inches. A good meat hog will average 75 pounds.


What is a good weapon for wild hogs?
Any weapon that will kill a deer will be sufficient for hogs.


Can I really take an alligator with a bow?
You sure can and we have a number of clients who have found the thrill of a lifetime. We will discuss with you any special equipment you might need.


Do you have taxidermy service, or do I need to find my own?
We have an outstanding taxidermist who has numerous national and state awards that will be happy to mount your animal for you. All you need to do is leave the animal with us along with a deposit and he will call you whne it is done.


---